A little late on Gage's birthday blog. Things have been a little busy. Work is super busy but at least it makes the day go by super fast. But having 5 minutes to eat my lunch is getting... lame (Kieran's new word).
Last Saturday was my Gage and Ryker's birthday party. Gage turned 8 on the 26th. We just do family parties right now, not exactly ready for the tons of kids ones. Didn't exactly plan it, but it was more of a musical theme than the original plan of planets as Gage had in mine. Both both got instruments. Gage got the guitar he had been wanting for awhile, as well as a bike and scooter. Ryker got a toy electronic guitar that he loved and didn't even care to open any other gifts, so I had to. He also got a piano keyboard and some kind of leapfrog drum.
This month also marks the 10th Anniversary of my discharge from the NAVY. I guess that makes me a 10 year veteran, lol. Time is flying by too fast.
Last night was our 80's dance fundraiser for NWARG in hopes to raise some money for the Killbillies to go to Minnesota this month. I am not able to go due to my nose breakage, kinda sadenning, but Apache wanted to go really bad so it was a blessing in disguise. Anyways, the dance was super fun and I of course was the first one out there, and would have been the last had my feet not had cramped up on me and forced me to leave and drive home barefooted using my big toe to push the gas. Gosh I love the 80's, and the outfits people wore were perfect. My fav was definitely Mellow and her Jane Fonda get up only she could pull off and still make it look sexy. Too bad I didn't take my camera, but others did and when I get some pics I am definitely stealing them.
So, for some pics from last weeks birthday party.
Gage helped me design the picture to use.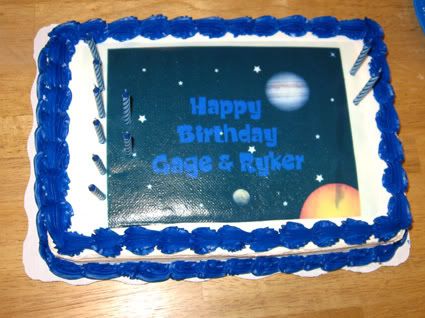 Gage playing his guitar like August Rush.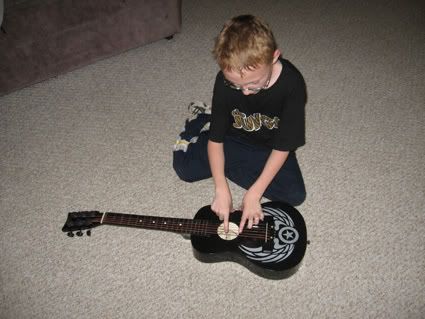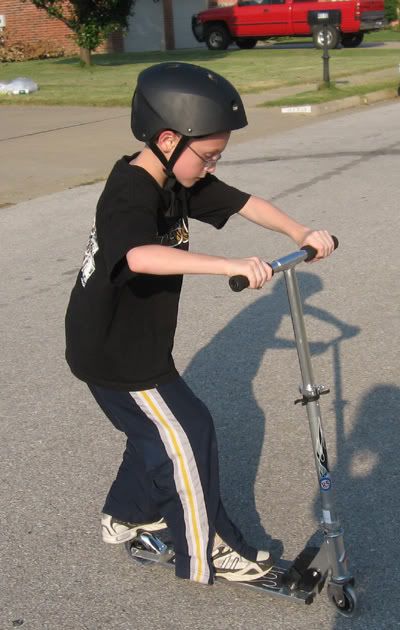 Notice the huge orb.