Well this weekend was a blast in all aspects. Trip took about 8-9 hours to get to Houston. We arrived at about 9ish on Friday morning. Spent the day mostly lounging around and cat napping. The group decided not to go see fireworks, instead stayed by the pool at the hotel and had a blast. So glad we did that. Sat. was spent lounging as well until it was time to get ready for the bout. After a brief dinner of appetizers at a Mexican place with a few of the Houston Hard Knocks and their refs, and families we left for the bout. As far as the bout, all I have to say is... I hate that floor. It was a ice rink with "sports flooring" put down. It was tiled, slick, and covered with dandruff looking flakes all over, which I later learned was insulation. Mellow and I fell doing our first toe starts, which gives you an idea of how slick it was. I couldn't go my usual speed nor could I do any of my evading. But nonetheless we put up a great fight. Also saw some amazing jamming by Death by Chocolate (DBC). The girl has moves.
We then headed over to some Ice House bar that had open garage doors which made me a fan quickly. They had a outdoor volleyball pit, karaoke, and dancing. So I had a blast. The Killbillies all got up and sang U Can't touch this by MC Hammer, with side dancing and everything. I even got my groove on singing Black Velvet and made me some nice cash in my shorts, thanks to Dill for starting that. I left with more money that I started with that night. But the highlight of that night was definitely the Doogie Houser looking guy getting up and singing Hungry like the Wolf and getting stripped down by random girls and then eventually ending up in his skivvies and still rocked it... until 2 cops put a stop to it.
I thought the night was over when we headed back to the hotel. My roomates hadn't made it back yet, so I went ahead and changed into my pj's. Next thing I know they arrive with a pleathera of Houston girls, refs, and others, and had themselves a little after party in our room until a neighbor complained. I of course just sat under the covers and people watched while watching Mall Rats on TV, while trying not to look to much like a stick in the mud.
Sunday, we headed out to Austin to play the Hell Mary's of the famous ranked #4 Texas Rollergirls. Once we arrived at the hotel room I decided to try and catch some much needed sleep. Everyone else went over to Sparkle Plenty's house for fajitas. From what I hear, she had an awesome skate ramp in her own backyard. I was sad I missed it, but if anyone knows me at all, I have to have my sleep or I get cranky and worthless.
The bout that night was awesome. We held up fairly well in the first half considering who we were playing and went into the second half just wanting to have fun. It worked as we actually ended up outscoring them in that half. Unfortunately we were still 50 points behind from the first half. We didn't care, we were thrilled and judging from our expressions, you would have thought we won. We were told by several people that night that we played a heck of a game, especially considering we were playing against some of the best in the sport. That made us feel awesome.
The after party wasn't too bad, but considering how hungry I was and no food was there I wasn't the happiest rollergirl there. I was even scouting victims for possible cannibilistic ventures. Luckily Ziv Kruger (photographer and roller derby enthusiast) offered to take a few of us to a local 24 hour diner in the heart of Austin. I of course jumped at the chance and we headed out. But not before getting a call that the fish tacos finally arrived at the after party. Oh well, we were on our way already and I wasn't about the stop. Glad I didn't. Nothing like breakfast at 1 in the morning followed by and amazing brownie ice cream dessert. We even got a private tour of Austin from Ziv. I got some sleep that night, well 6 hours I guess which was good considering the amount for the whole trip. The next day we headed the 8 hours back. The trip was a blast, but it was nice to get back to see the kiddos and Scuba. I spent the day today recovering and just lying around. I now have this weird eye twitch thing that won't go away. Weird.
Some picture highlights...
Some of the gang eating at Buca's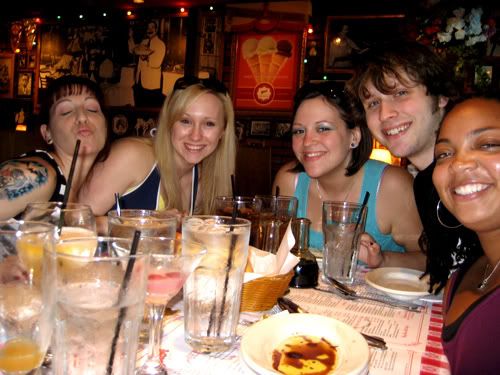 Jamming at the Houston bout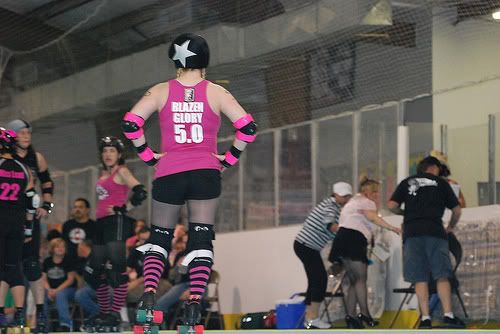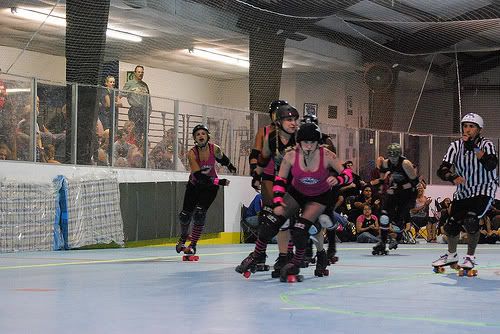 DBC getting sandwiched between Saba and Pork, I think she still managed to get through it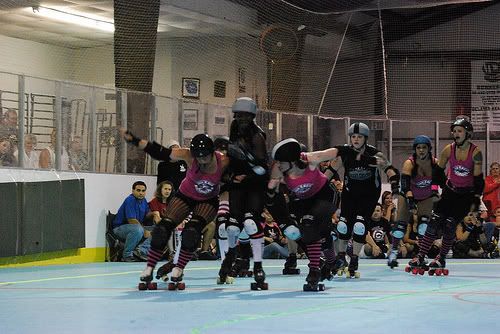 After the bout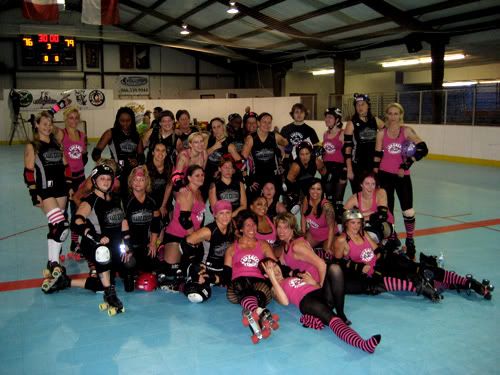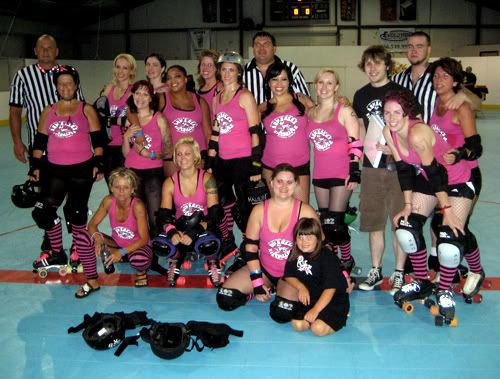 Dill teaching our Pirate Cap'n Jay how to swim. See the irony.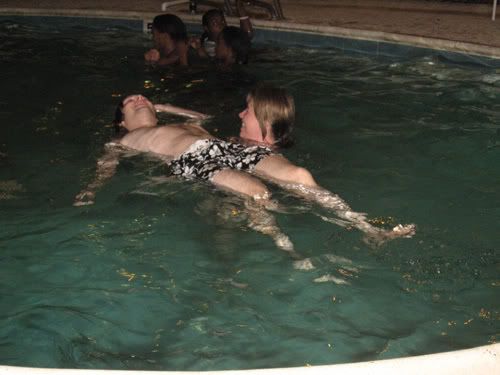 Dill and Wop doing synchronized cartwheels into pool
Jamming against Bloody Mary of the Hell Mary's of Austin, me new derby hero, she was amazing.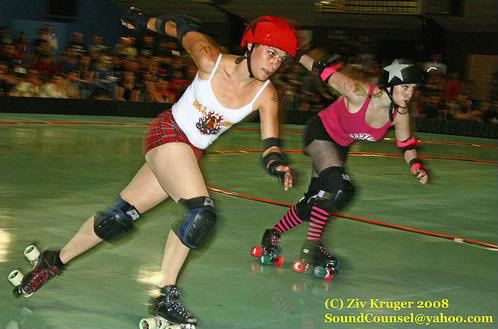 After the bout with Zilla, Jay, and Dill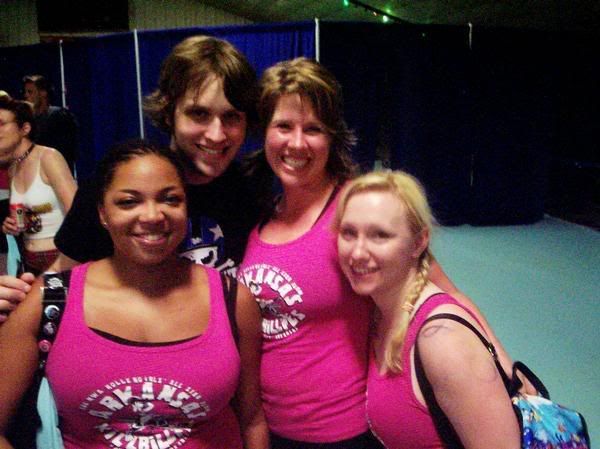 random travel shot with Dill, Robyn, and Dimah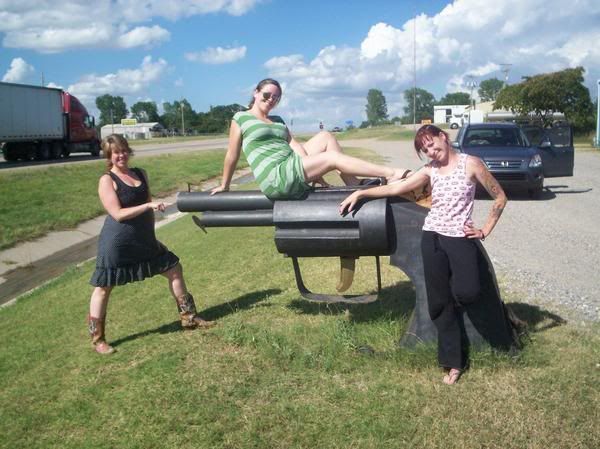 Beautiful sky shot from the vehicle on the way home