Since March has begun I have not really had a moment to even think. My apologies for probably another long blog. Deal with it or stop reading. Last weekend was the Betties bout in Little Rock. It was awesome and our team did amazing. Lots of great blocking by our defense making it easier for our jammers to get through. I had several grand slams, including one 15 or 16 point jam. 3 months ago I would have laughed if anyone would have told me I would have been able to do that. Final score I believe was like 121-80. The Little Rock team played an awesome game as well. At one point we were within 6 points of them. They did awesome at hosting us as well. Would definitely go there again.
This weekend the fam and I packed up and headed up to Tulsa for a mini vacation before the Breast Impressions Bout against Breast Cancer. Saturday we came down early and just "tried" to relax. 3 young kids in a hotel room doesn't leave much for relaxing though. Luckily the particular room had 2 TV's and a couch/bed, so we weren't cramped. Sunday we woke up and headed for breakfast. Stopped at Village Inn and ended up leaving after 20 minutes of not even getting our drink order taken. I guess the screaming baby and menus sticking out confused them. Since all IHOPS were super busy we ended up going to Denny's and finally got great service. We decided since it was a nice day we would go to the Zoo instead of the Aquarium. It was a good decision as it went fairly smoothly considering the brew of kiddos we had. Ryker of course did not like the new monkey harness we got for him. He fought it the whole time. He wanted to be one of the free roaming animals like the geese. Do you remember those SNL skits with Mike Meyers with the kid harness in the park? He reminded me of that perfectly. He would just pull and pull. I need to go find those on Youtube or something. After the Zoo we headed for dinner and then to the Bout. The kids did not like being confined to the bleachers and made their distaste known thoughtout the first half. Steven and I got a really good workout wrangling them around. During halftime the auction of all the Rollergirls casts took place. I told Steven to bid up to $200 for my cast. I wanted it bad, lol. Honestly I didn't think I would have anything to worry about. Steven did his job and even bid up to $215. He was outbid at $225. I was a little sad to see them go. That is until later when walking Ryker around in his harness and I noticed the gentlemen paying for my cast. So I walk up there and lo' and behold he and his business partner were the Gold Key sponsors for the night, A-1 tent rental, which were the awesome people who provided all the bleachers. They apparently have just recently got a new office and my cast was going to be decoration for that. I was honored to say the least and even took some pics with them.
The rest of the evening went smoother with the kids and of course the Killbillies in action with an awesome win of like 149 to 62. Great play all around!
Other than that I have been studying almost everyday for my National Counselor Exam to be taken on April 4th. Prayers would be appreciated as far as that goes. And for those who don't pray send some positive thoughts my way.
Pics...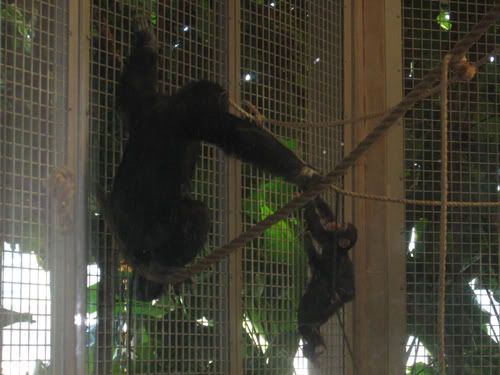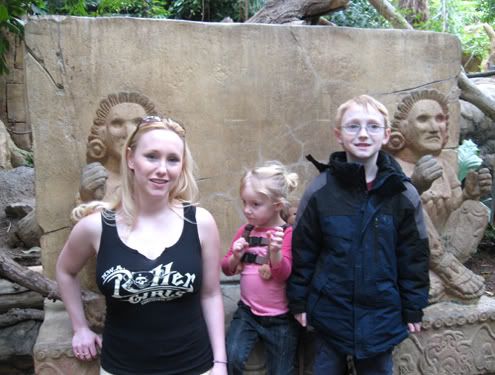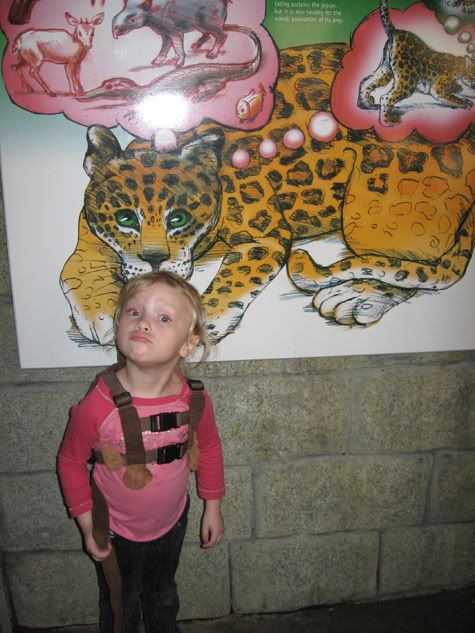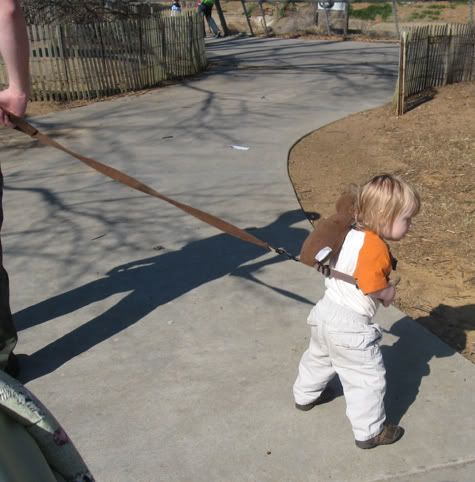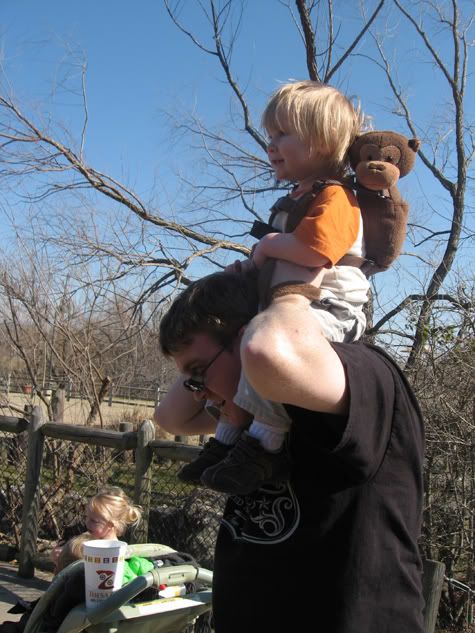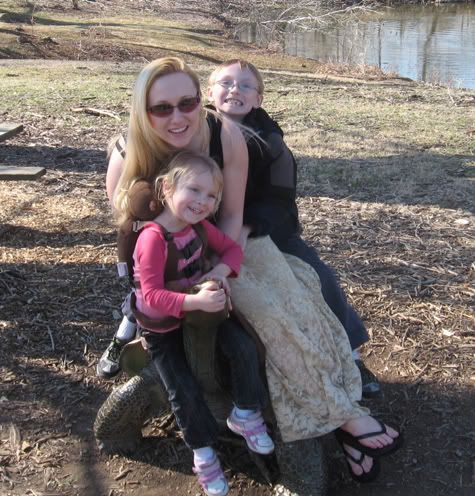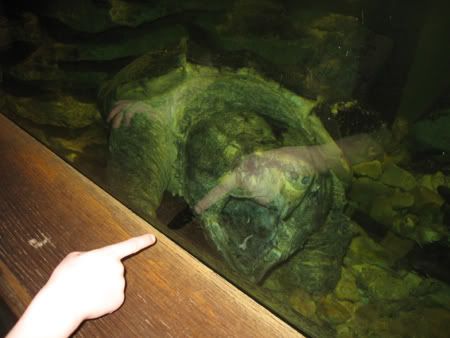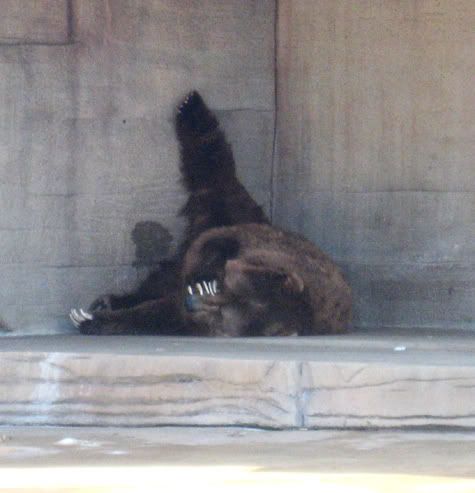 At the bout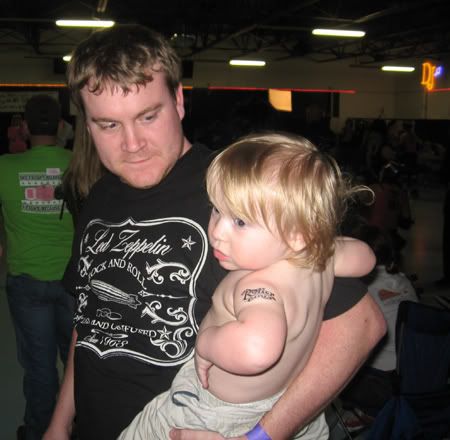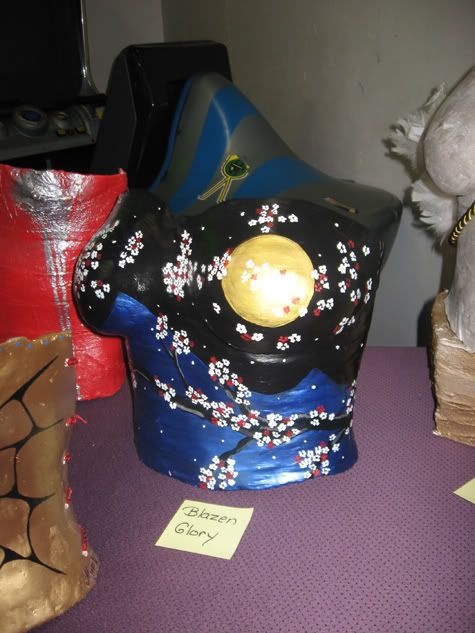 Saying goodbye